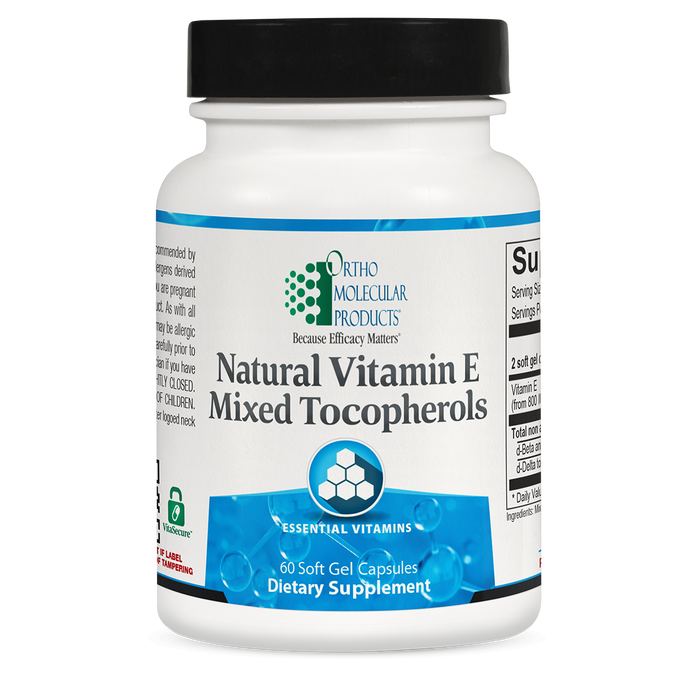 by Ortho Molecular Products
2 Soft Gel Capsules
Serving Size
Soft Gel Capsules
Serving Form
Description
The Natural Vitamin E Mixed Tocopherols formula provides full-spectrum, fat-soluble vitamin E to reduce the effects of free radical activity throughout the body. Natural Vitamin E is formulated to maximize antioxidant protection and provide support for cardiovascular health. The formula includes a blend of mixed tocopherols. Each serving provides 800 IU d-Alpha tocopherol and 400 mg of additional non-alpha tocopherol forms for comprehensive antioxidant protection.

Naturally occurring vitamin E refers to a family of fat soluble molecules which include tocopherols. There are four different forms of vitamin E tocopherols: alpha, beta, gamma and delta. The most widely studied forms of vitamin E include alpha tocopherol and gamma tocopherol. Alpha-tocopherol, in its natural d-alpha form, is the form primarily retained in the body and found circulating in the bloodstream. Gamma-tocopherol is the form found most abundantly in food, although heat and oxidation during cooking and processing can destroy it. In the past, most research focused on the role that alpha tocopherol plays; however, new evidence is emerging regarding gamma tocopherol's role in supporting health. Through its antioxidant activity, vitamin E has been shown to support cardiovascular, neurological, ocular and immune health.

CLINICAL APPLICATIONS
Provides Protection Against Free Radical Damage
Maintains Normal Inflammatory Balance
Promotes Cardiovascular and Nervous System Health
Suggested Use:
1 soft gel capsule per day or as recommended by your health care professional
BENEFITS
Antioxidant Support
In a study of oxidative stress on human blood cells, mixed tocopherols had a stronger protective effect on lipid peroxidation than alpha-tocopherol alone, due to gamma and delta tocopherols ability to trap and neutralize other free radicals in the cell.
Immune Support and Inflammatory Balance
Research has demonstrated that supplementation with vitamin E promotes a healthy immune response. A tocopherol mixture rich in gamma tocopherol has been shown to maintain normal inflammatory balance by reducing oxidative damage, trapping of unique free radicals called reactive nitrogen species, and inhibition of abnormal arachidonic acid metabolism.
Cardiovascular Health
The oxidation of low-density lipoprotein (LDL) and other lipoproteins can be a major detriment to cardiovascular health. Research has also shown that vitamin E is incorporated into LDLs. By supporting antioxidant activity within LDLs, vitamin E helps maintain cholesterol integrity, normal white blood cell activity, and normal inflammatory balance, which is crucial for cardiovascular health.