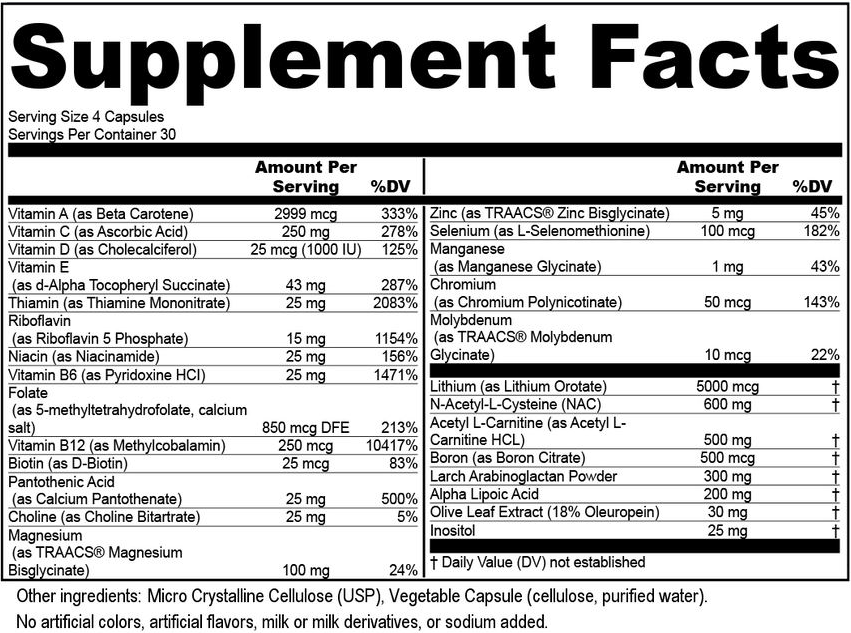 Description
OVERVIEW  
Featuring our highest quality multivitamin, TLC Energy Core has the specific micronutrients your body needs, encompassed with the complete variety of vitamins and minerals that go beyond your traditional multivitamin. This core blend of vitamins, minerals, and electrolytes was customized by doctors themselves making sure you have the right amount of nutrition and support to keep you at your best! 
CLINICAL APPLICATIONS  
Supports 

cellular

 energy and

 immunity

 

Provides essential minerals and antioxidants 

to optimize daily 

nutritional

 intake 

 

Contains added nutrients that promote longevity and cellular health

 
INGREDIENT BENEFITS  
Vitamin C
Vitamin C, which acts as an anti-inflammatory and antihistamine, provides our immunity with the anti-oxidant power needed to keep us healthy. Additionally, Vitamin C plays a vital role in enhancing the proliferation and the function various lymphocytic white blood cells. 

Vitamins A and E
Vitamin A and E, also antioxidants, are added in to boost immunity, enhance eye health reducing risk of vision loss, and slow down cellular aging.  

B Complex
Additionally, a B-Complex is added, which aides in cellular health, proper digestion, healthy nerve function, hormone production, and energy. 

Essential Minerals
Essential minerals like Zinc, chromium, and selenium will help boost immunity, lower blood sugar levels and provide the extra antioxidant kick you need to destroy harmful free radicals. Magnesium, potassium, and calcium are also added which not only help strengthen bones and prevent muscle spasms, but will also provide the body with electrolytes, keeping cells hydrated and elastic. 

ALA, Boron, NAC
Alpha lipoic acid helps increase energy levels, while boron will help build strong bones and muscles and NAC will support the body's natural detox pathways. 

The new TLC Energy Core has been designed by our physicians to improve upon the success of MitoCore in the following areas:
Integrates a more therapeutic active B Vitamin blend to further assist in mitochondrial energy production, to take the energy you're accustomed to feeling on MitoCore to the next level
Supports Natural Killer Cell activity for immunity with the addition of pre-biotic Arabinogalactan and Olive Leaf Extract
Supports cognitive wellbeing with a meaningful dose of Lithium Orotate
Assists with proper metabolic, brain function and bone health with the addition of Boron
All accomplished in the same number of capsules daily as MitoCore
As with all our TLC Vitamin Research formulas, TLC Energy Core is completely chemical filler-free, pure and freshly made on every custom small batch.
SUBSCRIBE & SAVE PRODUCT
This product is offered with a subscription option. The delivery times have been specifically developed by Dr. Ellihorpe and the team to ensure maximum effectiveness.