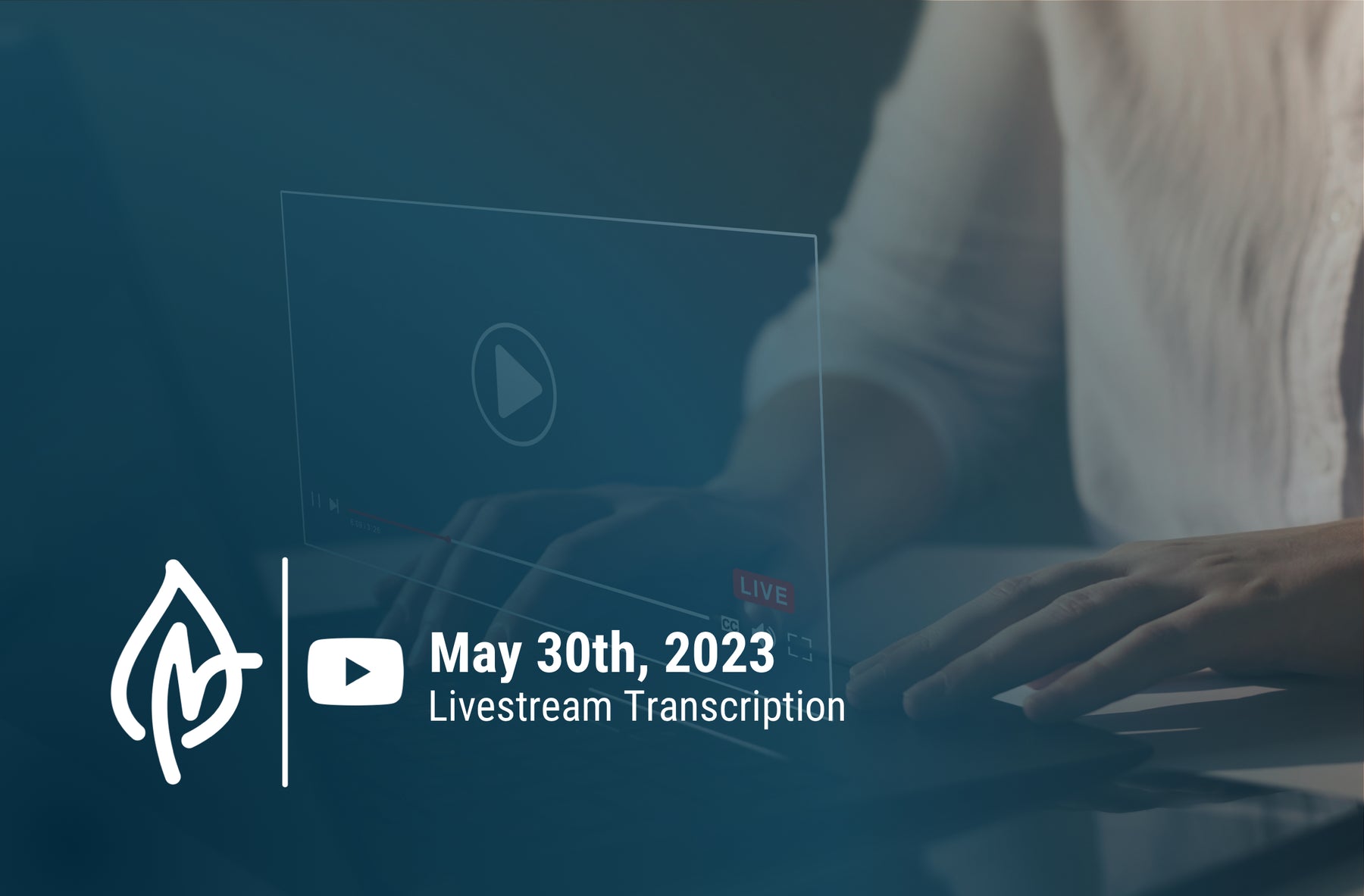 Home
Blog
YouTube Livestream Q&A Transcript, May 30 2023
YouTube Livestream Q&A Transcript, May 30 2023
Question
"Last night after dinner, I developed terrible pains in my stomach. It felt like I was bloated and my food wasn't digesting. It was like gas pains but worse. I have stomach pains when I breathe and move. Last night I had the chills and then sweating all night, as though I might pass out but didn't. I felt as if I had to throw up but didn't. I also have a terrible headache. I did have a few bowel normal movements and I feel a little better but still have the stomach pain and headache, no longer the chills and sweating. I did not eat all day today. And I did take black charcoal last night. I had similar symptoms two nights ago but to a lesser extent, no sweating or chills just slight stomach pain and uncomfortable. The charcoal seemed to help that time. I have been resting in bed all day. But still uncomfortable. What can this be? What can I do for it? I am gluten and dairy free due to rheumatoid arthritis and eat low sugar. God bless and thank you for all you do.
I submitted this last week but you didn't get to the question. To add to it, last Monday after dinner, which was a rack of lamb, rice, and broccoli, I developed stomach bloating and cramping and developed chills and sweating, and headache. I felt as if I needed to vomit but did not. This lasted all night and I did have a regular bowel movement in the morning and I did get a little relief. These symptoms continued until today, which is a week. The sweating and chills only last the first night. But the stomach pains and cramping continued, making it painful to walk or get up from sitting, lessening as the days went on. I did feel more cramping before a bowel movement. I did not have diarrhea except after I took a laxative one day to see if that would help. I have hardly eaten, just rice and soup, and feel weak and am very pale. I have lost 7 pounds since my last doctor visit a couple of months ago, which I now weigh 100. Also, my groin where I assume I have lymph nodes is distended. Today I have a slight sharp pain on the left side of my stomach. I did go to urgent care and they did not know what it was. The doctor said maybe a virus but I didn't throw up or have diarrhea so she wasn't sure. I did have braces removed that week and had a permanent metal retainer placed in my mouth. They did grind and do other modalities and use glue to secure the retainer. I do have sensitivity to chemicals and have had reactions to a plastic retainer and orthodontic treatment in the past but it was more with my nervous system. Not sure if it's related. Or if it was food related or a virus or some type of inflammatory bowel issue. My Dr. did order lab work which I have an appointment tomorrow. But it came on so suddenly and intense and I have been really sick for a week. Wondering if you have any insight. Also, I have rheumatoid arthritis and have started homeopathic immunotherapy but that's been for weeks already. I do eat an anti-inflammatory paleo diet."
Answer
Pain that is persistent, and discomfort that is persistent needs to be followed up. When we are talking about pain situations and abdominal pain, I would need to know your family history, and colon cancer issues, could this be difficulty with a structural component of your gut, a hernia, umbilical hernia with torsion of the intestines? Could it be diverticula, going into diverticulitis? What is the white blood cell count? Have you had a colonoscopy? Have you had your stool tested for blood? There are so many questions with chronic and persisting pain situations. This is not something that would be typically approached here in a venue like this. You would have to see your doctor. 
I'm glad that you saw the Urgent Care and the primary care doctor and that you are doing lab work to follow through on this. I would say, what we tend to do is follow our patients. The recommendation for a colonoscopy is now dropped to age 45 because colon cancer is a silent risk. The first symptom, even after it has developed and metastasized can be acute abdominal pain. Of course, I want to know your age, family history, and did you have a colonoscopy, and how long ago. You can still have stools that seem to be normal, although there could be a problem. Please follow up with your primary care doctor and the labs, imaging, and exams that need to be done.  
The thing that we would suggest is probably be fasting on a clear liquid diet for 48 hours, where you just totally rest your gut and drink water, and chicken or beef broth. Not bone broth. Chicken broth or beef broth, just the clear, see-through liquid, with the salts in it, with a little bit of the fat left in it. That alone with water and resting your bowels completely, we would encourage a probiotic. We used a powder form of it, our Ortho Biotic. Vitamin D which is 10,000. And then a multi-mineral with magnesium which tends to be relaxing to the smooth muscles. When we watch this over time we have a powdered magnesium called OptiMag Neuro and Vitality C powder in water. Resting the bowel, giving relaxing minerals, giving Vitamin C to assist with the motion of the bowel movements, allowing it to rest, and would expel the gas pain, and pressure. The Vitamin D helps boost the immune system. And we would just follow from there. That is what we recommend for almost all acute nuanced sets of nominal discomfort, whether it's with diarrhea or constipation. Resting the bowel and fasting for 48 hours with plenty of water, chicken broth, and bone broth, with Vitamin D 10,000, and with Vitamin C and magnesium powders, the probiotic powder. That gives enough time to get you in, get some labs, a urine sample, and various things.  
Question
"Are you familiar with the product GTA-Forte II by Biotics Research for use for thyroid issues? My niece has taken it for a number of years and has had good thyroid numbers and feels great. She saw an endocrinologist recently and she wants to put her on Levothyroxine. The reason was that the supplement may suppress her thyroid from making its own thyroid hormone. What is your opinion of this natural supplement versus Levothyroxine?" 
Answer
Yes, I am familiar with GTA-Forte II.  
Well, Levothyroxine will suppress your own production, thyroid stimulating hormone. So, that is kind of a funny justification. Maybe we misunderstood what the doctor meant. But Levothyroxine is primarily T4. It is a precursor. It has four iodine molecules in the thyroid hormone. It becomes active when one is removed and it becomes T3. T3 is the active thyroid hormone.
So, GTA-Forte II is a supplement that is often used by non-physicians because it is a very low dose. So, one of the sneaky ways of getting away with practicing medicine with prescription medicine is to make a low dose so low that it is considered basically over the counter. If you use desiccated thyroid from the pig, usually is from the pig, and you use it at 30 milligrams, usually more. I think 15 milligrams is also another consideration. But anyway, there are about 20 milligrams of desiccated thyroid in the GTA-Forte 2. That is a very, very low dose. It also has things in it, I think, like Selenium that helps the thyroid, other nutrients, and minerals supportive of thyroid function. So, it should be helpful for mild thyroid, and hypothyroid function. We can understand that it would have been a help. I do like that over Synthroid or Levothyroxine.
Now, I don't know your niece's situation. I don't know her current numbers or how many of those GTA-Forte II she was taking. But I would suggest to her that she ask her endocrinologist for the most natural form of thyroid replacement, which is NP-Thyroid, glandular thyroid, or Nature Thyroid, which is glandular thyroid, or Armor Thyroid, which is glandular thyroid.
There isn't anything special about Levothyroxine. In fact, there's been a court case for many, many years where they're the makers of Synthroid sued Armor Thyroid, I think because they said the variability of the glandular thyroid for the T3 component was too variable and they actually found out that the study on Synthroid in the late 1990s, the T4 was much more variable. So, just trying to package and own products to market as a pharmaceutical company is really the drift. They don't really care how good it is. I have increasingly less and less respect for pharmaceutical companies. But anyway, so T4, Synthroid, and Levothyroxine, are all T4-type products primarily. You still have to metabolically convert it into the active T3. This can be a problem. I just like using the natural way it comes in whole glandular and use it that way. Hopefully, that'll be helpful. 
Question
"My father, 80 years old, was diagnosed with prostate cancer about a year ago and he also has Parkinson's, thankfully pretty mild so far. His triglycerides are also elevated, probably too many carbs. What approach would TLC take with a patient with such a profile?"
Answer
That is correct, he is eating too many carbs and is not as active. Most men, by the time they are 80 or 85 will have prostate cancer. If you did autopsies on every man above the age of 80, I would say nearly 100% would have some tissues on prostate evaluation that are consistent with prostate cancer. Same for women. So, age-related changes are associated with this.  
We would certainly encourage a very low-carb diet, very rich protein, more carnivorous, keto-like diet. As you get older, your muscle mass is going away, your ability to digest is going away, and you need to make the white blood cells to fight infection, repair tissue, etc. We would also use high-dose Vitamin C, intravenously with EDTA chelation to improve the circulation to the prostate. We would use systemic enzymes on an empty stomach to try and dis-inflame the prostate as we profuse it and try to chew up any blockages that would promote hypoxic tissues and aggravate this cellular material that is becoming cancerous. We would also encourage a multi-mineral rich in Selenium and Zinc. We would also encourage the Vitamin D to get up to a level of 80 to 120. A Vitamin D3 K2, roughly 10,000 to 20,000 international units with K2 90-micrograms, MK7. We would also encourage the patient to follow up with their oncologist and to be managed appropriately as designed by the specialist. But are supportive care to build the immune system, improve the microcirculation, detoxify, improve the immune system with Vitamin C, and improve the natural killer cells with the Vitamin D and things like high dose Vitamin C, these are how we would approach it. There is a value to blocking estradiol. This can be blocked with Anastrozole. Very often they use hormone blockers with this. We are supporters of that. That is how we would begin.  
Question
"Does raw milk and raw kefir have systemic enzymes?"
Answer
Raw kefir and raw milk have all these healthy bacteria in them. They are supportive of producing certain enzymatic actions in our bodies. In that sense, it is supportive of systemic inflammation being reduced through the action of these healthy bacteria in the tremendous organ of your gut biome. All those trillions and trillions of cells in your microbiome. 
We still think that separate systemic enzymes, like systemic enzymes, Vascuzyme, Vitalzym on an empty stomach, once or twice a day, is very, very valuable. Plus plenty of water. So, yes the answer is yes to this. More or less through the action of the healthy bacteria that have the enzyme activities that are rich in the raw milk and kefir.  
Question
"Does a person in a ketogenic state hinder cancer?"
Answer
Yes, in the sunset, we believe that insulin is a very powerful growth-promoting hormone. Anytime you eat any starch, carbohydrate, nut, seed, vegetables, you know, salads, anything with starch, carbohydrates in it, will have an action to make insulin go up. Insulin is a growth-promoting hormone. The reason is that insulin tries to get the sugar to be opened up and accepted into the cell from metabolism. Unfortunately, Americans tend to eat way, way, way too much starch, sugar, carbohydrates, and fruit sugars every single day of their life. And this creates a constant, highly responsive insulin and even the baseline insulin eventually gets to such a higher, anticipatory level, just assuming the minute the human being wakes up it's going to eat a high-carb diet. So, the insulin levels are always high. So, there is a secondary effect in trying to get the insulin into healthy cells for metabolism. There is so much insulin in the body, it can indiscriminately promote the metabolism and growth of tumor cells and cancer cells, and fat cells to get fatter, and the thickness of the intima of the arteries gets thicker to make your blood vessels stiffer and thicker. So yes, through that action, we think we're avoiding the cancerous changes that would tend to occur. 
Question
"I'm 50 years old and want to know what I can take for menopause?"
Answer
You need to be seen by a doctor. There are many questions. I don't want to give natural hormone natural replacement to anyone if they are not on a low-carb diet and lifestyle. I don't want to give it to anyone that is going to eat late at night on a causal haphazard pattern. I don't want to give hormones to a person who will not exercise. I don't want to give hormones to someone that will not use systemic enzymes, because the older you get the fewer the systemic enzymes you have. You are full of them when you are young, a child, a teenager, a young woman. As you age, these enzymes decline and therefore they associate clotting more with old age and with the hormone status. So, I won't give hormones to someone if they don't drink enough water every day of their life. So, if you are going to do natural hormone replacement, estradiol, progesterone, testosterone, and DHEA, we need you to have a lifestyle that reflects the same amount of care and concern for the use and prescription of these natural hormones. You'd have to agree to let us monitor that every six months. We don't want this to go without a pelvic exam, or breast exam annually, or at least every other year. Without getting a bone density or certain imaging studies that are appropriate, maybe an ultrasound of your uterus. We want to do the best we can and have the best outcomes and long-term benefits of these hormones. That is what I would do, find a doctor to do those things and monitor you.  
Question
"Is chelation helpful for 85-year old with AFib and taking blood thinners?"
Answer
Most certainly it is anytime you improve the microcirculation you're reducing the resistance that that blood is facing when it's pushed out of the heart. And when you have atrial fibrillation, the efficiency of the floor dynamics from the atria, the top of the heart into the lower part, the left ventricle in particular, to eject that blood out with a good volume and efficiency becomes hindered. So, anything that will improve the left ventricle rejecting out the blood that has been oxygenated to the rest of the body. Anything that will reduce the stickiness of the blood because when the top chambers are not working properly, they're kind of quivering, they're not clearing out effectively, then blood can get into these turbulent little circular flow dynamics, bump each other, and become sticky and make clots. We don't want these clots. That is why we give the blood thinners.
Our first question to every one of our patients is how much water do you drink every day, and we push it. The next thing to do is that EDTA chelation improves microcirculation, and it is associated with platelet activation. So, it decreases the stickiness of the platelets. So, it is in a sense, EDTA chelation is itself a very mild anticoagulant. So, that along with a low-sugar diet, with water, with systemic enzymes, motion, and getting up and walking around, EDTA chelation is what I recommend for all my patients. And even if you don't have AFib reducing the oxidative and flaming damage of heavy metal toxins is what we need. 
Question
"My 10-month granddaughter has had a rash on the nape of her neck since she was born. Pediatrician said to change the shampoo, it's not better. What can we put on it, cortisone cream?"
Answer
I wouldn't use steroids. Usually, this is associated with the cell membrane. Remember, a healthy cell membrane has protein and fat and is very beautifully sealed and protective. When you get a hole in the membrane and the linkages allow this to be in connection with the outside world, irritants can come in. So, usually, the baby is not getting enough fat, the essential fats. So, we have the liquid form of parent essential oil. And I would either get a capsule of it, this is what I do for my grandchildren. We pop open a capsule and rub that over the rash, whether it's eczema, whether it's psoriasis or anything like that dry skin. We will put a half teaspoon in the baby's food every day. It doesn't taste bad like castor oil. Castor Oil is not the essential fatty acid that the human body and cell membranes need either. So, that's how I would do it. I would not bathe the baby every night too. I would let the baby's skin be natural and seal up. I would wash the buttocks and the groin area and the hands and the fact. But I would leave the nape of the neck less bathed and away from all the soap and stuff. Most children don't get daily bathes anyway throughout the world. This is an invention of marking. 
Question
"Could eating foods that show severe reactions on a KBMO test affect blood pressure, and thyroid nodules with Hashimoto's? And my gut barrier results were good."
Answer
I'm not sure what KBMO test is. That's probably a food allergy test from the IgG. There are types of new companies starting to do this. Yes, it could affect your blood pressure. Thyroid nodules with Hashimoto's, yes, it could affect that. 
Someone you are seeing is probably trying to do a d-mannose lactose test where you drink this, collect urine, and see how much passes through or not. There are stool tests and blood serum tests for immunoglobulins. Not all tests are equal. Not all testing companies are as reputable. This is a growing need, but it needs to be managed by moral, God-fearing people, who realize the cost of the tests and how important it is. Plus a doctor who has sincere intentions to help walk you through this in an elimination diet. Now, the greatest elimination diet there is a carnivore diet. You may want to think about going carnivore. See if your thyroid antibodies improve right away, and blood pressure improves right away. You need to make sure that your Vitamin D levels are somewhere around the 80 range. And you need to be on a multi-mineral to get the minerals in for your blood pressure. You also need to be on a methylated B complex, B50, and B100s to get the pyro-doxxing Vitamin B5 methylated. These tend to help very, very much. So, even my carnivore patients that I have on methylated B complex, we have here and test. We have them in the multi-mineral that we have amino acid chelated. We have them on an elimination diet or carnivore diet. We push the water. We tell them to put a little bit of Himalayan salt every time I make a glass of water, you know, like this. I will take a dash of my salt, and put it in, one little half-twist. I'm always getting trace minerals. There are as many as 80-trace minerals they have found in the mountain salt beds, so forth, and in deep subterranean beds. 
Question
"My 13-year-old son is dealing with a case of vitiligo. The pediatrician suggested a DERM appointment. He has seen a DERM doctor in the past. All they recommended was steroid cream and UV light treatment. He has patches on his knees, fingers, eyelids, and a little around his mouth." 
Answer
That is an autoimmune phenomenon that attacks the melanin-producing cells. I would find out your child's blood type. If I was seeing a child with vitiligo I would have them only shower or bathe with Selsun Blue shampoo. It's a selenium-rich, one or two percent selenium. That is all I have used in my life is selenium-based shampoos. Not to bathe too frequently. I would put him on a carnivore diet. And I would give them the Vitamin D and do the gut/stool to look for inflammation in the gut and food allergies. And help them understand how serious this diet is and messing up all these children with autoimmune phenomena. That is how I would approach that for an adolescent with vitiligo. 
All these areas that you are constantly touching, microtrauma all the time, this is where the greatest cell microdamage is. You get these little pokes in the hole there in the skin. The micro-trauma and repair rate is diminished with the gut, low-grade inflammation from the foods. I'm sure there are food sensitivities, leaky gut. I'm sure he has a low Vitamin D, blood sugars are too high. Remember the routine labs allow way too high blood sugar, hemoglobin A1C, triglycerides, and way too high insulin levels tolerated. You need to have those lower. 
Question
"How much have you looked into grounding and have you seen positive clinical results with respect to inflammation, blood velocity, energy, sleep, etc." 
Answer
I have done a lot, all the way back to the 1990s when I was doing my second doctorate in integrative medicine at the Capital University of Integrative Medicine. It's now closed. I even taught there a little bit. For about 10 to 11 years, it was a very good school. It was a focal point to really kickstart doctors into getting a very serious worldwide exposure to all forms of healing, eastern healing, ayurvedic, Chinese medicine, and so forth. Energy medicine was a critical component of it. Shoes, all these kinds of plastics, they are new inventions of the last 100 years or so. We are insulating ourselves too much from discharging our negative ions. Yeah, stepping in your bare feet on the fresh morning grass with a little dew on it, connected to the soil will discharge your human body from the negativity of these electrons. Going on the beach, walking in the sand that has the water coming into it with the waves. Any kind of regular ocean play is very valuable. And these grounding mechanisms are associated with this as well. 
It's a very valuable thing. 
Question
"Are there any issues with using salt in water for those that are scared about high blood pressure?" 
Answer
Well, that's why you have to have a grounded, trained, functional doctor who is going to know and be able to tell whether you're drinking enough water every day half your weight as pounds as ounces of water every day, then you can add some dash of the Himalayan salt into every, you know, 16 ounces, you pour for yourself. My cup here, when it's all the way full is a 20-ounce cup. I use that. If you add up all the dashes, it turns into a half teaspoon. So, this 2.3 grams is on the low side, two grams limit a day. You probably need more. If you are drinking enough water, low carb, taking systemic enzymes, exercising, not eating late at night, and especially if you do EDTA chelation therapy, really your salt intake needs to go up.
So, you need to go on to YouTube and look up YouTube titles like, The Value of Daily Salt, and you will see a lot of credible physicians talking about the research updates on these things. There is a woman by the name of Rhonda Patrick, Ph.D. in biochemistry. She has an excellent article and website called, www.FoundMyFitness.com. And if you just type in YouTube Rhonda Patrick you will see her name and her videos will come up. In the search area on her video, type in salt. You will see the lectures on that. It's very easy. Hopefully, that helps you.
Question
"I use a grounding mat and have noticed a difference. Next, I want to get the grounding pillowcase." 
Answer
There is a thing called a beamer mat. They are not grounding mats, they are different. The beamer mats have a well-researched energy flow that has a cycle that is in synchronization with the inside lining of blood vasculature to promote dilation. That is so incredible. But it's real, it's true, it's researched even in the agriculture business where they are trying to get more fluid to go up into the plant. There is no heart-pumping blood pressure in a plant. There has to be a way for the water to be drawn up. Some plants get six, seven, eight, nine, 10 feet tall, corn stalks, and sunflower pillars. How does the water get up there? Well, there is a magnificent frequency and relationship between water and electricity and the membrane potential. That is what has been discovered. This is the new direction of medicine. And it is valuable. 
Question
"When I hold my cell phone in my hand, I experience tingling in my hand. And when I sit behind a computer, I experience tingling in my feet."
Answer
You are electrochemically sensitive. I would get a grounding mat for your workplace or at your desk. I would try and get your feet into the grass, the fresh grass dew every morning. If you have a sandbox, you know with water you can dump into it every morning, get your feet in the sandbox every morning. Just for a minute and come into the house and wipe your feet off. 
There are crystals that have a counter energy to these 5G, 4G, and electronic waves. You can get the blue filters for your eye/glassware. All these things are valuable. Look on YouTube, and type in electromagnetic energy protection devices. You will see a plethora, whether it's for your office work, home environment, all these kinds of things. 
Question
"I have a 56-year-old friend who has developed Peripheral Artery Disease (PAD) in her genital area, and she is in extreme discomfort. Would EDTA chelation be of help to her? Also what else might be of help? She lives in the Boston area, and if chelation might be helpful, what is the organization where she could find the names of doctors in her area that do chelation?"
Answer
Absolutely, yes it would. But of course, it will be massively improved if she goes on a very low ketogenic, low carb, or carnivore diet, does not eat past 6 p.m. at all, drinks half her weight in pounds as ounces of water every day, uses systemic enzymes on an empty stomach, morning and evening, and probably take a high mineral chelate, thing like our TLC Multi-Min with the magnesium in it. That would be extremely helpful. 
If she lives in the Boston area, what she needs to do is go to ACAM.org. That is the website for the American College for the Advancement of Medicine, the oldest alternative, independent physician organization in America that was built upon chelation therapy, freedom of the doctor, and the patient relationship. This is all the way back to the '50s and '60s. This is the premier organization. I am on the Board for ACAM for teaching chelation therapy. So, ACAM.org. You type in your zip code and they will locate a doctor who has been through the training, maybe I even trained them.  
Question
"I have been taking 4 Vitalzym every morning for about 2 years after the initial dose of 10 a day. Headaches and neckaches returned. If I increase back to 10 a day, how long will it take for the pain to go away? Wondering if Greek yogurt and triple cream brie could be causing inflammation? It is the only dairy I eat." 
Answer
I would go dairy-free and wheat-grain-free. Or even carnivore for two or three weeks a month. I would not touch any grains or dairy at all. I would go back to Vitalzym five, twice a day. And within the first two or three days, you should notice this. One thing you can do is go on a 24 or 48 hours. I would prefer a 48-hour water fast with broth, chicken, or beef. Not the bone broth. But the chicken or beef broth. Just let your whole system dis-inflame. The enzymes take them in the morning and evening. You should see your headache and neck pain immediately respond. 
Question
"My granddaughter is three weeks old and her parents are thoroughly educating themselves on the childhood vaccines. I would love to hear your view and if you are aware of any vaccines that don't contain risky adjuvants."
Answer
The very first person to bring this to the attention of the world was Barbara Fisher. She is a mother who has had an injured vaccine child from 1982. She created the National Vaccine Information Center (NVIC.org). So, she has faithfully over 40 some years been out there fighting this situation. I would then go to ChildrensHealthDefense.org. That is Robert F. Kennedy, Jr., his website. And then I would go to Del Big Tree. He has Indian heritage. His website is TheHighWire.com. You will come along with many, many well-reported information on the fact that the documentation of the safety and development of childhood vaccines has come under scrutiny, severe scrutiny about the alleged inadequacies and the risks and potential damages. You have to understand the National Vaccine Act of 1986 came along because they saw their children hurt and were suing the manufacturers of these vaccines. They lobbied and pressured the government to create a law to give them protection against any lawsuit or being sued for their pharmaceutical product of vaccinations. What happened was they went from three or four vaccines recommended to now we have somewhere in the neighborhood of 72 vaccinations, and scheduled appointments for children all the way from birth to a senior in high school. They have no liability. They make money on this. It's promoted and mandated by government, and state government education programs. This is a dream of any businessman to have government-mandated protection against being sued for your product. It's a dream. 
The probability for corruption and greed and harm is so amplified. When you read this material, you will find the adjuvants and the research on them has so many questions that I cannot give an informed consent to recommending any of them because of all the exposure now out there. So, those are some good ways to begin. 
Question
"Why is Pilates better than other forms of exercise?"
Answer
I'm not going to say that Pilates is better than any other form. I do both Pilates and heavy weight lifting. I do the weightlifting three times a week and do the Pilates twice a week. That is because Pilates is more of a range of motion, stretching, and endurance on holding these stretches against modest resistance. So, it's a range of motion and balance, which is not given in heavy weight lifting. I think the two have to be done.  
Question
"Can you talk a bit about the effects of Huperzine on memory and cognition and whether it has any side effects? Also, how much is recommended for a person in their upper 60s and older?"
Answer
Huperzine is available over the counter. We have it here in a product called Membrin, that's for the membrane of the brain. And when two nerves come together, one has to secrete a neurotransmitter to hit receptor sites on the receiving nerve to be excited to pass on the information. So, in the gap between the two nerves, when the neurotransmitter comes out, if you're constantly spitting it out, you can get depleted, especially if you're nutritionally depleted. And so, there are enzyme inhibitors that help stop the breakdown of some of these neurotransmitters. And so, huperzine is a natural method of preventing, I think it's acetylcholine, from being broken down. Acetylcholine is probably the least understood autonomic neurotransmitter associated with Parkinson's, associated with ALS, associated with MS, and associated with so many sleep disorders, narcolepsy, and probably seizure disorders as well. And it's dramatically linked to the entire gut microbiome and vitamin levels. And so, huperazine is very, very important and associated with helping preserve your acetylcholine level. And that's the unsung hero of health and part of your memory. 
I can't recall off the top of my head how much to take. I'm going to have to say, the Membrin on our website, call our store, they can pull a bottle off and tell you how much is in there. I think it's just one capsule a day. I have seen so much value from this. I have never seen a negative side effect from that. 
Question 
 "Looking into the B vitamins. The KBMO test was offered at a discount through my school. It is a blood spot and also tests for immune complex as well as IgG. I see Dr. Meric at the end of July." 
Answer
Yeah, I don't use that test and am not familiar with a KBMO. More are coming out. I'm sticking with the old tried and true where I know over the decades, the owners and the character, and have very often I have visited these places and no they are quality. Not to say there is not a new one coming up, but I just stick with what I know that works.
Question
"Do you believe high doses of Vitamin C for detoxing is a good idea? And if yes, do you have a protocol?" 
Answer
Yes, I would say that most of us are deficient in Vitamin C. In general, I think it's smart to go beyond the recommended daily allowance, which is just designed to prevent the disease Scurvy. So, hope much is beneficial? Typically we have a powdered vitamin C called Vitality C. One scoop has four grams, which is 4,000 milligrams of vitamin C in it. If you take that and don't get diarrhea, and take anywhere from one to four scoops, 4 to 16 grams of vitamin C, most people can't take that much. That will produce diarrhea. But very often, you can build up a tolerance to this. Vitamin C is involved in so many human biological beneficial activities of anti-aging and detoxification that I don't have time to list them here. But yes, use your vitamin C and try to build up your bowel tolerance to handle at least 4 grams a day. That is what I encourage my patients. I know some people who can take up to 20 or more grams a day. It helps with detoxification. 
Question
"Polyrhythmic music abounds in our modern society. Can you briefly discuss the negative physiological effects and the importance of protecting ourselves from it?" 
Answer
Yes, there are vibrations. These vibrations impact us whether you like to know it or not. For instance, if you have ever read about this, you can go to YouTube and see a demonstration of this. If you go to a heavy metal rock concert and take a raw egg in front of the speakers, within a minute or two that egg will be cooked from the intense amplification and frequency of the vibrational waves that come from that music. And then, if you make waves go into rhythms, introducing something intermittently that is desynchronous, it is irritating to the physiology of living cell membranes. It can break them up and disrupt them. Just like it can cook an egg. So, it is not innocuous to be in heavy metal, hard metal, loud noise, banging, or dysrhythmic music. That is why we have so much research that shows classical music, the church hymnal music is so brain enhancing for focus and cognition. Yeah, that is a very important thing. 
Question
"Do you know anything about H3O2?"
Answer
That is water with an extra hydrogen. I know a lot about that. We have a book. I drink it all the time. I helped Bob Centenary, the author of this book, do some publications on hydrogenated water. It just gives another proton, a positive. So, if you want to ground yourself and discharge negative electrons, drinking H3O2 is getting a positive hydrogen in you. So, there you go.